"There used to be a tradition of the loveable rogue who would steal from the honour boxes in churches and buy a round of drinks with the money he snagged. And everyone would find him tremendously good company. But not anymore." Douglas Coupland
---
Anna, my good friend at No Eden Elsewhere, got booted off of Twitter when she tweeted that creepy pastor, Carl Lentz, should be tarred and feathered.  Apparently one of his fans reported her to Twitter. She is now back under a different handle while she deals with them. I plan to send them a note myself. Looks like Carl *Low Shorts* Lentz has some friends out there. Here is her new account.

She also asked me to direct people from Twitter to her new post. When I saw it, I immediately asked her if I could post it here. Anna is amazing. You will not believe it…or maybe you will. I am becoming increasingly concerned about Matt Chandler's ability to choose pastors that understand the need for integrity in the pulpit. Perhaps he is too busy raising cattle and selling expensive, but guaranteed, clean steaks.
I will start off the post here and send you on to her website to finish it off. Yes, the story involves allegations of swinging pastors and attempts to groom members of the congregation to join in the fun.  Every time I think I've heard it all, I realize I haven't. Never forget that Matt Chandler, who picked these losers (once again), is considered one of the leaders of the gospel boys.
Please keep me in your thoughts and prayers. My mom is not doing well at home and may need to be rehospitalized and my kitchen is torn up. I love to cook but tomorrow we are going to Cracker Barrel which is amusing since I'm a foodie.  But, as my husband often says, "God's still on the throne."
So tell me, does this story surprise you? Remember this a Reformedish type of church. I assume they do church discipline. Given this, I wonder exactly what they discipline.
---
Start post.
With all of the recent news of Jerry & Becki Falwell's strange proclivities and now Carl Lentz getting the boot from Hillsong Church because of his infidelity, I'm convinced these stories come out in threes. You know the old myth that celebrities die in threes, or something to that effect? Well in the case of church sex scandals, this third one is a doozy.
I was recently contacted by someone who informed me that VERY BAD things have gone on over at Citizens Church Plano (formerly The Village Church-Plano Campus) which involved the campus pastor, Hunter Hall, and the worship pastor, Isaac Wimberley.
It all goes back to 2016, when Hunter committed adultery with a woman in the church…but the story only began there.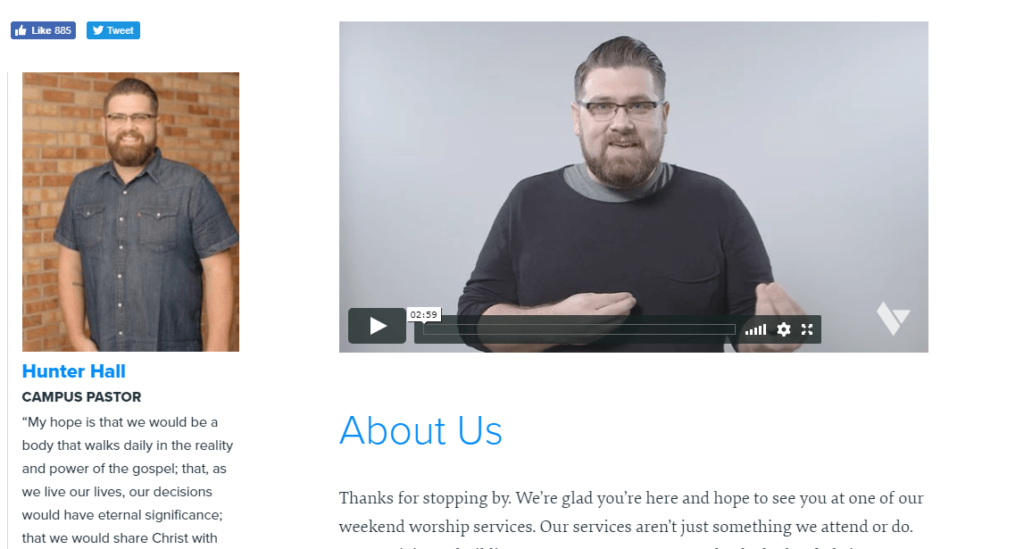 Hunter Hall was a longtime staff member at The Village Church, most recently as the Campus Pastor of the Plano location (until August 2019). He was also a member of the band Folk Angel, with worship pastor Isaac Wimberley, who is quite famous in his own right. Hall was immensely popular as the Plano campus pastor, and was slated to lead Citizens Church, after it's roll off as an autonomous campus in late summer 2019.
ISAAC WIMBERLEY
Wimberley was the worship pastor at the Dallas Northway campus before joining Hall at the Plano campus. He, along with Hunter Hall, were members of the band Folk Angel, and Wimberley has gained notoriety for his spoken word presentations, most notably on the album 'Tell Us of the Night' (Christmas album.) In 2013, The Village Church released a rap album featuring Wimberley with a duet of Wimberley & popular Christian rapper Tedashii. He is featured throughout The Village Church's music on several platforms (iTunes, Amazon music, etc.)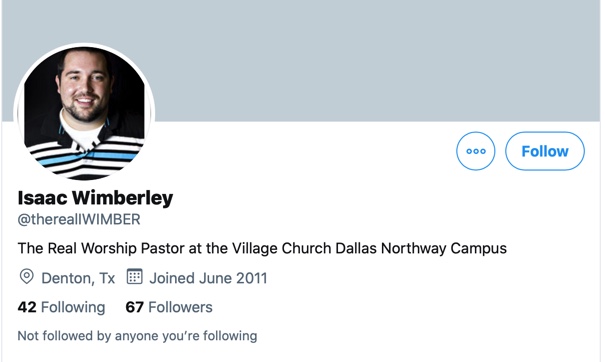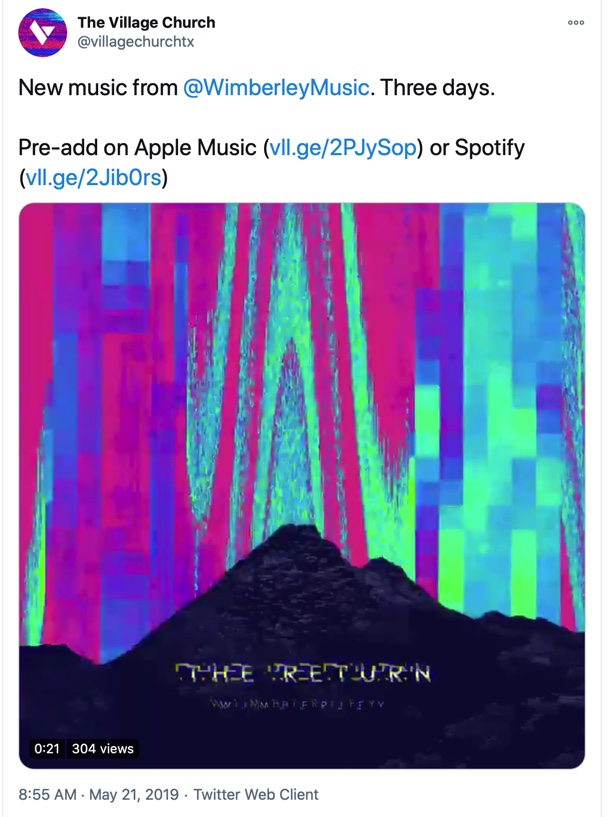 Matt & Lauren Chandler are friends with the Hall's – they are not just obscure staff members. According to this sermon dated April 7, 2019, Chandler says he's known Hall since he was 16 years old.
"The reason I'm talking about that is because today is the last day Plano is going to be on our stream. Over the last several years they have been with us. They are us. They have become Christians at The Village Church. They have matured in their faith at The Village Church. The Holy Spirit has done significant breakthrough in their lives at The Village Church. They're off stream as of this sermon, once this is over, and then they are going to be Citizens Church over there in Plano. So I am feeling yet again a gospel goodbye. I've known Hunter Hall since he was 16 years old. He's going to be one of the pastors over there. Jamin Roller is still 16 years old. Then you have Taryn and Adam and Andres. Those are our people. We are their people. They are our family, and God has raised them up and established them in Plano to do ministry in Plano for the people of Plano."
What we had here were two long-term staff members of The Village Church who were highly regarded, very popular and ready to be launched into an autonomous church body as leaders. What could go wrong?
AUGUST 4, 2019 – LAUNCH DAY
That day was supposed to be an exciting day for the newly minted Citizens Church in Plano. Unfortunately, the congregation was met with the heavy words of teaching pastor Jamin Roller and the noticeable absence of their lead pastor, Hunter Hall.
https://www.podbean.com/eu/pb-puvst-ba4f1e
"I have really difficult news that I need to share with you, and it's heavy, and it's heartbreaking…"
"I'm going to read a statement: As Christians, we are called to make war with our sin and through grace to lead lives marked by holiness. Specifically, elders and pastors are called to be above reproach. On Tuesday (7/30/19) we learned of a PATTERN of serious and grievous sexual sin that has required both the elders of Citizens Church and The Village Church to make a sober and serious decision. It came to light Tuesday that in 2016, Hunter Hall committed infidelity with another adult member of our church, which disqualifies him as an elder and staff member and he has therefore been removed from both of those positions. A person involved brought to light what happened, and when Hunter was confronted, he admitted to the sin. (I need to keep reading, but I am so sorry, I am so sorry) You probably have a myriad of questions, and we will be creating space for that, today and in the coming days. Before moving on I need to say again what I just shared, as it is difficult to process – on Tuesday of this past week, the elders of Citizens Church were informed that Hunter Hall committed infidelity with an adult member of our church, resulting in him being disqualified as an elder and being removed as both an elder and staff member. This disqualifying sin happened in 2016, but came to light this week. The sin was not confessed, but was discovered by someone involved, and when confronted, Hunter admitted to the sin. Know this – we are committed to caring for all involved in this situation, including those sinned against – the Hall family, Hunter, anyone else directly affected, and you. We are committed to caring for you. Though there are serious and difficult consequences involved, we are charged with ministering to the brokenhearted and giving the grace Jesus has given each of us. We will do everything we can to walk with ever person impacted by this, not just now, but in the months to come."
In the aftermath of these revelations, it was discovered that the other adult member that Hunter Hall had committed infidelity with was the wife of worship pastor Isaac Wimberley.
You might be wondering if this is case of clergy sexual abuse, and on the surface it might appear to be. After speaking with my source, who is a member at Citizens, she informed me that the Hall's & the Wimberley's were very close friends outside of church, were involved in the band together, and that there did not seem to be an imbalance of power in their relationships. In my opinion this appears to be a case of marital infidelity involving two consenting adults. It was never disclosed how long this 'pattern of grievous sin' went on, or when it stopped. These are open ended questions that are yet to be answered.
The church followed through on their promise to support the two families, keeping them on the payroll for a short time. Others in the church provided assistance in the form of monetary gifts, meals, gift cards. They wanted to make sure their kids knew the 'church' loved them and didn't abandon them. That is a noble cause – this is, if everything were as it seemed. I do have questions:
Did The Village Church make an announcement at their other campuses, since they were involved in the process?
Why has Matt Chandler been completely silent about ANOTHER one of his campus pastors being involved in 'serious & grievous sexual sin'?
Why would these two pastors be kept on the payroll? There is no other profession where misconduct & subsequent firing would result in staying on the payroll for ANY period of time.
Why were two adulterous pastors shown more care and grace than the victim of a sexual assault & her family?
FAST FORWARD TO FEBRUARY 2020
At this point both couples had stopped attending Citizens Church, and Isaac Wimberley had served a short stint as a worship leader at Lake Pointe Church's White Rock Campus, where former Village Church Northway Campus Pastor Steve Hardin is now the pastor. (it's good to have connections, you know). Wimberley has also previously performed at Lake Pointe's summer youth camp, Journey. I have to wonder if Lake Pointe Church is aware of ANY of this.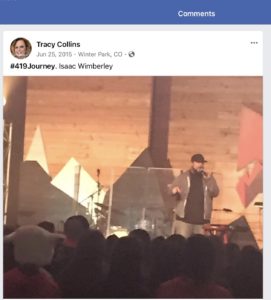 However, rumors were starting to circulate about what was REALLY going on with the Hall's & the Wimberley's. It didn't take long before the leadership at Citizens Church was made aware that there was more to the issue than they were originally told.
In early 2020 Isaac Wimberley's wife wanted to return to Citizens Church to be restored as a member. It was during this process that she revealed there was more to the story.
The two couples had been involved in swinging!!!!!