"Mercy, detached from Justice, grows unmerciful." CS Lewis
__________
We humans are rather odd when it comes to our associations. Most Christians quickly align with a group of people who they believe are doing it right: the right theology, the right leaders, the right way to do church, etc. And when something happens to challenge the assumption that we picked the right church or denomination, we become upset. Most of us think of ourselves as intelligent, thoughtful, devout believers. We would NEVER choose a church or a leader or an association that was corrupt, would we?
Except, of course, there is that pesky thing called pervasive sin that challenges us to take another look at our presumptions. Now, quite a few of us would rather stick our heads in the sand, pretending to *see no evil.* We want to protect our own but not out of a sense of loyalty. Instead it is to avoid when must happen when the evil is made evident. We have to do something about it and it could be yucky. We don't want to hear about the bad stuff. We want to hang around those who makes us feel good about our choices.
For those of you who are just joining us, ARBCA stands for Association of Reformed Baptist Churches of America. In my opinion, this group is Calvinism on steroids. However, they have a great deal of support from other Reformed factions such as the Southern Baptist Convention or MacArthur followers. From my observation, there appears to be an affinity between ARBCA and Sovereign Grace Churches which both groups would heartily deny. But then again, I predicted that CJ Mahaney would one day bring his churches into the SBC and I was told I was nuts. (As an aside, my prediction is not due to ARBCA's devotion to the term "Sovereign Grace.")
It is from those supportive Calvinist groups and individuals that there came some objections to Todd implicating some of the ARBCA leadership in the Tom Chantry scandal. Why? Was it tribal? Was there an assumption that this couldn't be because they were Calvinists? Was there a feeling that the Calvinist crowd couldn't be covering up another abuse scandal, could they? Or was it simply an individual thing as in "I couldn't be this wrong, could I?"
Todd Wilhelm has worked many long hours in exposing Chantry's crimes and following his trial. However, as he began to write about the possibility that there were those in leadership in ARBCA who might be trying to cover up the scandal which involved the abuse of children, he got some Twitter pundits who pooh poohed his well researched conclusions. Unless a critic has spent the hours and hours of research on the matter, I would suggest a back seat driver take a different approach. Ask a question such as "I wonder why Todd believes this?" Send him a note and inquire about his information and then read it.
Sadly, it is this sort of knee-jerk protectionism that gives abusers a green light to proceed. I wonder if those BFFs ever consider this possibility. As one shoots from the hip to discredit a well researched observation, that person could be tagged by abusers as an easy mark, especially if that person is a pastor or leads an organization.  A predator might say "Oh, he leads the Evangelical Most Ginormous Church of Topeka. Maybe I'll give that place a try. I bet he'd overlook things."
Thankfully, it is the devotion of people like Todd Wilhelm who care enough about children to actually investigate what's going on instead of joining in on the back-slapping gala of "I've got your back, buddy."
According to Todd, numerous churches are resigning from ARBCA, citing the Tom Chantry scandal as the reason. Why would these churches leave their association if all was well with the leadership?  Does this point to institutional sin in the ARBCA? Seems so to this observer.
Thankfully, there are a few good churches/leaders/members within ARBCA who are beginning to see the light. Todd is the one doing the exposing and he gave me permission to reprint his most recent work. As you read this, think about two things. Are you witnessing an implosion of ARBCA? Will ARBCA dissolve and reappear under a different name(taking a cue from CJ Mahaney?)
I am posting a good bit of two posts but recommend that readers go to Todd's site and read the full articles.
_____________
Chantry Legacy Grows – Former ARBCA Church in Hales Corners, WI is Dissolved, Building Sold
Below is a photograph of Thomas Chantry and his father-in-law, Al Huber. Huber preaches at Grace Reformed Baptist Church, an ARBCA church located in Rockford IL. Little did the two men know at the time of this photograph that the dark secrets they were keeping would soon land Tom Chantry in jail, followed by a trial where he was convicted of two counts of felony assault of children. Chantry was then arrested again on nine additional counts of assault and sexual abuse of children and has been in jail since September 10, 2018. Chantry currently is awaiting a trial on the new counts as well as a retrial on four counts of sexual abuse of children from his first trial.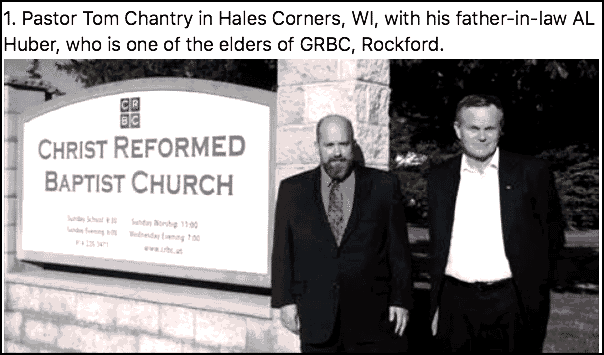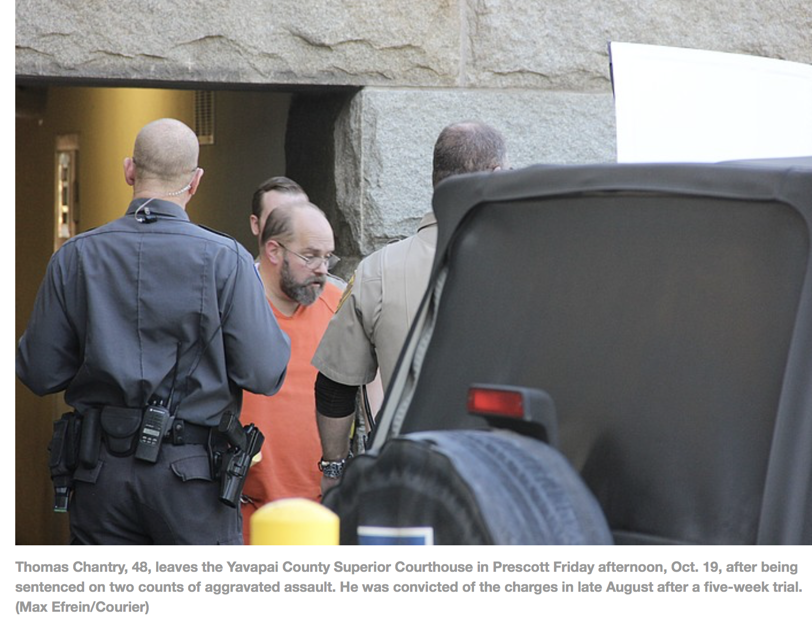 Meanwhile, the ARBCA organization is crumbling. Numerous churches have resigned from the Association, citing deception and coverup of Thomas Chantry's horrific crimes by ARBCA officials intent on allowing Chantry to join their Association back in 2016.
Acting on a reader's tip that the church Chantry formerly pastored – Christ Reformed Baptist Church located in Hales Corners, WI, was dissolved and the building sold, I conducted some research and found that my reader's information was accurate.
I found out from a realtor that the church property was sold on December 12, 2018.  I would recommend ARBCA Coordinator, Steve Martin hire some additional help as he is obviously having problems keeping the ARBCA website up to date as it relates to their church directory!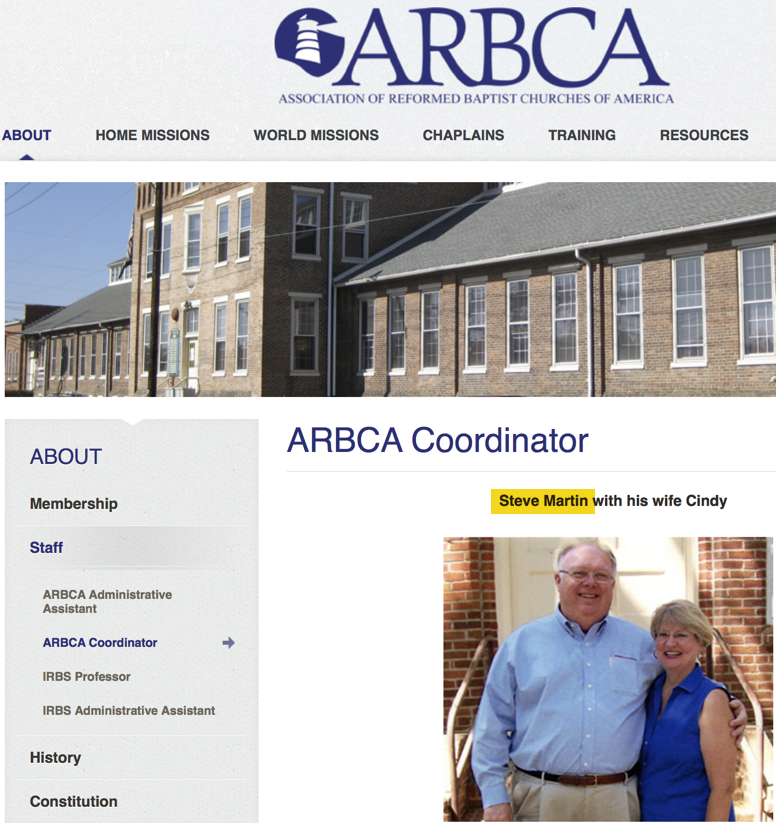 By the way, Steve – have you seen fit to remove your positive endorsement of the book authored by Thomas Chantry and David Dykstra, or will you go to your grave defending a disgraced felon?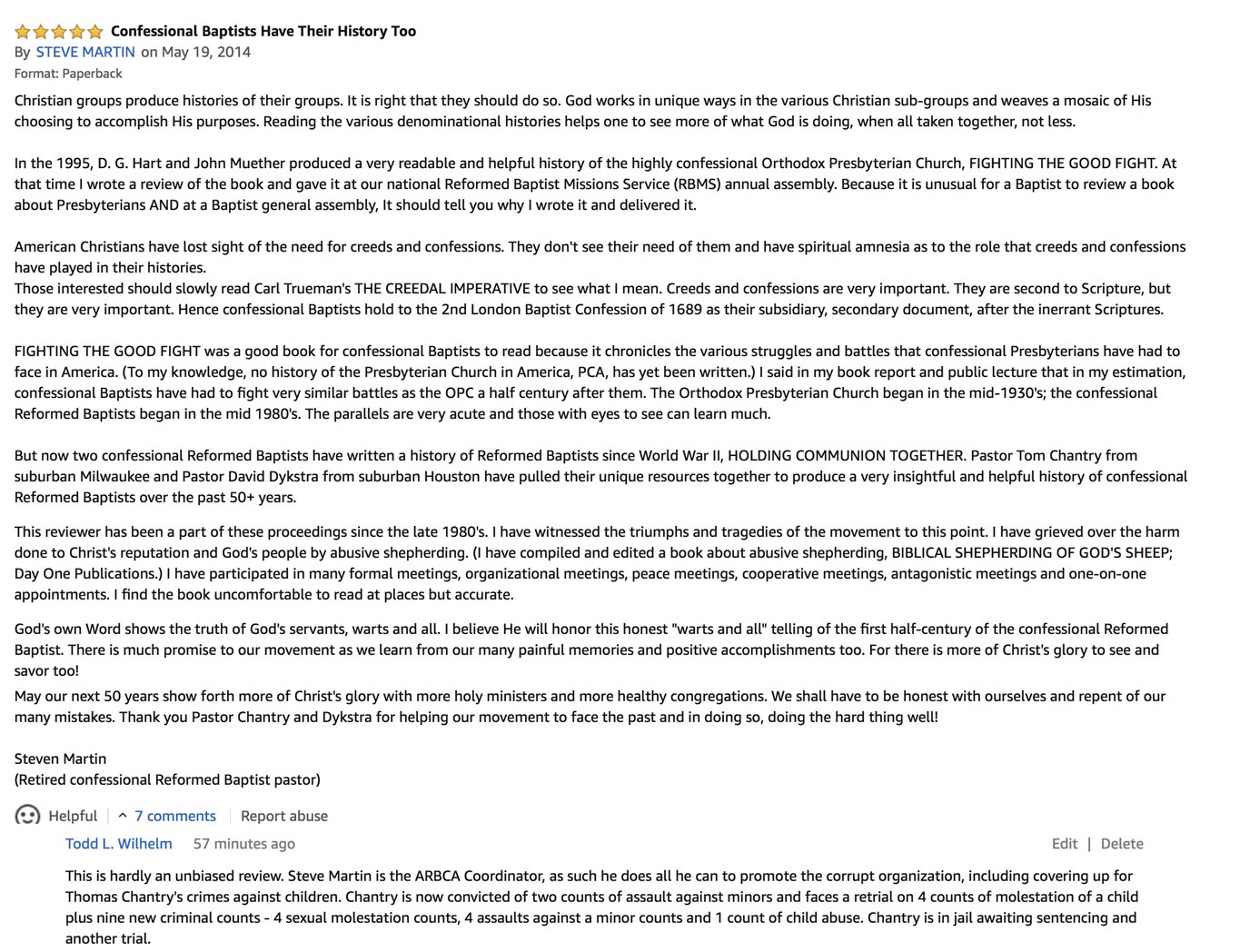 I did not find out what the selling price was, but if there are any ethical, upright churches remaining in ARBCA, and I know there are at least a few, they need to pay close attention to the ARBCA books. It is my opinion that those in leadership positions of ARBCA cannot be trusted.  I would guess the CRBC  property sold for $550,000 or more and I would guess the church property was likely paid off. Regulations state that when a non-profit organization dissolves, the cash they have can only be donated to another non-profit organization. While I would personally recommend the money be donated to the Humane Society or almost any other non-profit organization besides ARBCA, the unfortunate reality is that the few remaining members who attended CRBC prior to its collapse were likely blind loyalists to ARBCA and therefore will give the money to ARBCA.
I feel sad for the former members of Christ Reformed Baptist Church. They were badly duped by ARBCA leadership who knew full well of Thomas Chantry's scandalous past and yet felt no compunction to advise the members of this prior to dumping him on their church. Then they were further scandalized after Thomas Chantry was arrested; ARBCA leaders Don Lindblad and Steve Martin showed up at their church in January of 2017 in an attempt to quell an angry uprising among members who demanded truthful answers. Unfortunately they did not receive any, rather, in my opinion, they were fed more lies and coverup.  These members did not buy the lies they were fed and continued to search for the truth. When the truth became known the good folks left the church. (My sources told me about two thirds of the congregation resigned their memberships.) These lay people attended the church for years. It was their hard earned money that was donated to pay for the church property, and now they have to face the fact that what they purchased will, in all likelihood, be donated to the corrupt organization that foisted Thomas Chantry upon them and ultimately forced them to leave their church.
__________
2. Redeeming Grace Baptist Church of Matthews, VA Resigns From ARBCA, Cites Thomas Chantry Scandal
Redeeming Grace Baptist Church, located in Matthews, Virginia has resigned from ARBCA.  Pastor Van Loomis has penned a concise letter of resignation which can be viewed below. Once again, the primary reason given for their resignation is "the reconmendation and admission into ARBCA of Christ Reformed Baptist Church, Hales Corner, and specifically their former pastor, Tom Chantry.
I am always encouraged by local churches that take a principled stand! May God bless them for doing so.
With so many churches withdrawing their membership from ARBCA, it would seem church planting is imperative to ARBCAs continued survival as an Association. At some point one must wonder if an ongoing Association is the Lord's will. At any rate, I am doubtful a two day "school" will reverse the trend of shrinking numbers.