Galaxy NGC 5866 lies 44 million light-years from Earth and has a diameter of roughly 60,000 light-years — a little more than half the diameter of our own Milky Way galaxy. From our viewpoint, NGC 5866 is oriented almost exactly edge-on, yielding most of its structural features invisible.
"Paul was like a musician who gives no thought to audience approval if he can only catch a look of approval from his Conductor"  Oswald Chambers
---
My mom is still not doing well and her care has taken up most of my time. In the midst of this, my daughter and boyfriend announced they are planning on getting married next summer.That brought us much joy.  I read this post by Anna or No Eden Elsewhere in October and asked her if I could repost. Frankly, I find the account both disturbing and informative. I am surprised that anyone would find this behavior by a church to be uplifting. As on Wednesday, I will post the first part of it here and send you over to Anna's blog to complete the story.  Please show this post to anyone contemplating joining Watermark. They appear more controlling than 9 Marks and that's saying a lot.
Thank you, Anna. You are doing an awesome job!!!
---
Begin Post
Similar to previous stories that I have written about Watermark Community Church, the one I'm about to tell involves a person who requested that they not be identified.
Why is that?
Because Watermark Community Church will try to silence their critics. If they discover that someone is bad-mouthing them or giving 'bad press', they will go to extreme lengths to harass that person. Just ask Erika Estrada.
Erika contacted me a few months ago after reading my posts. She never attended Watermark Community Church, but came into their crosshairs when she expressed her concern over the church's involvement in her children's elementary school, White Rock Elementary. For those of you who are not familiar with the history of Watermark, they started out meeting in Lake Highlands High School, which is in the Lake Highlands area of Dallas, TX, where White Rock Elementary is located. It would be considered an upper-middle class neighborhood, where the competition for where your child attends school is fairly high. A lot of Watermark Community Church members live in this area (including influential local politicians & community leaders). Long story short – Erika and some 'Watermark-moms' locked horns over these issues, as well as Erika expressing her concern over Todd Wagner's presence in the school. Erika, a Catholic, felt her children were being left out and and singled out for not participating in the after-school activities that Watermark was doing at the school. This all culminated in a stand off with the parents of one child (the father showed up at Erika's front door), and another 'Watermark Mom' calling Erika's job to inform them of 'the type of person they had working for them.'
You can read more about Erika's experience in these two articles:
After these articles were published, Erika was vilified on community Facebook groups and online forums. She is planning to tell more of her story at a later date. You'll want to stay tuned.
*Wendy contacted me for the same reason most people do – they find my blog online and figure out they aren't alone in what they have dealt with in their experience with Watermark Community Church. They finally feel validated.
*Wendy was raised in the Jehovah's Witness faith, and when she became an adult, she decided that she no longer wanted to remain in that religion. She related to me that as a child growing up as a Jehovah's Witness, she participated in the usual activities such as door-to-door evangelizing and frequent church attendance. She was very well educated in the Jehovah's Witness doctrine. Unfortunately she suffered ridicule from her peers, particularly those who attended local evangelical churches. I was grieved to hear that a lot of these children were apparently taught to be cruel to Jehovah's Witnesses, because many times *Wendy was told by her classmates that she was going to hell. (parents please don't teach your children to do this)
*Wendy met her boyfriend, who was a member of Watermark Community Church, and began attending church with him. She wanted to explore the Christian faith more, and considered herself an evangelical Christian at that point, believing in the basic tenets of mainline Christianity. After dating for a while and attending church with him, she decided she wanted to pursue membership at Watermark Community Church. She wanted to become more involved, and this required that she become a member. She knew this was an important step in her developing faith.
JANUARY 2019
*Wendy began attending membership classes in early 2019. After 3 classes, she was asked to fill out this questionnaire, to find out where she was in regards to her relationship with Christ.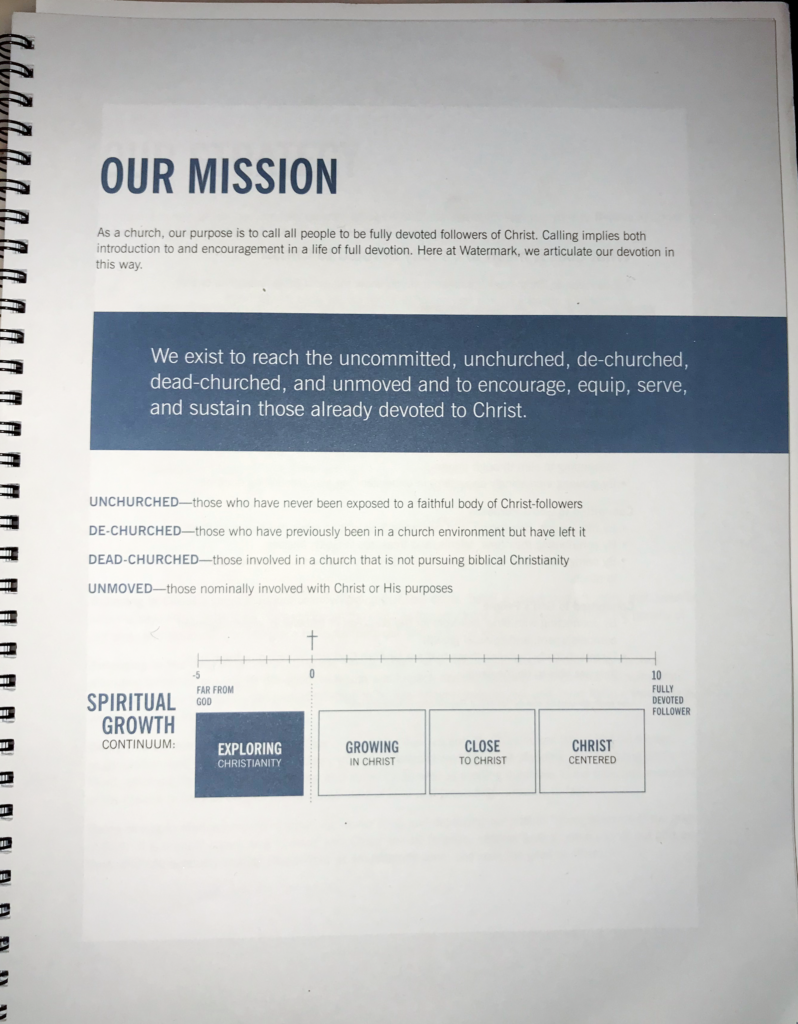 As someone who was still growing in her faith, and not wanting to appear proud, she answered '7' on the scale.
Apparently that was a no-no.
*Wendy learned shortly thereafter that her membership request had been REJECTED. When she asked why, she was told that it was because she marked a '7' on the Spiritual Growth Continuum chart, and not a '10'. She explained to the membership volunteer why she answered that way – that she didn't want to appear proud AND that she still had a lot to learn in order to grow – but the membership volunteer said there were others who answered the same way and they were rejected as well. She added that *Wendy's denial of membership did have a lot to do with her having grown up as a Jehovah's Witness.
This lead to more discussion with the membership volunteer, who admitted that she had no idea what Jehovah's Witnesses believed, in which case *Wendy educated the volunteer.
Continue reading at this link to the post at No Eden Elsewhere.