"You don't carry in your countenance a letter of recommendation." Charles Dickens
I'm so glad that Todd Wilhelm returned home from Dubai just in time to cover the Tom Chantry trials. To recap: Chantry was convicted of two felony assaults on children and is awaiting new trials due to a new victim stepping forward and the mistrial of 4 sexual assault claims in the first trial. He is being held on $1,000,000 cash bail unless his lawyers can get the judge to reduce the terms. He got probation for the felony assaults.
Todd is a real investigator, unlike Dee who wishes she was one. Todd decided to do some investigating to see who wrote letters of support of Chantry to the judge. Well, lo and behold, he found some fascinating recommendations, including one which was written by an unexpected source.  Rep Tom Morrison is a Republican who is seeking reelection to the 54th District state rep.
Although I usually eschew politics, this is one instance in which I must dip my toe into the shallow end since it involves a former Christian school co-teacher. Morrison's letter asked that Chantry be given a lenient sentence because he is a good guy. That letter would come back to haunt him…
Before we get to that, let's look at the post that Todd recently wrote:
---
Why Does Christian Liberty Academy Support Convicted Felon Thomas Chantry?
Why would Christian Liberty Academy want to insert themselves into the Thomas Chantry child abuse case?
Why would CLA Superintendent Philip Bennett claim Chantry was a "model teacher" as recently as September 25, 2018, in an interview with the Arlington Heights Daily Herald? Bennett knew at this date that Chantry had been convicted of two felony counts of assault on children; Bennett had taken part in a Police investigation of Thomas Chantry in 2004 for the extreme paddling of a five-year-old boy while Chantry was a teacher at CLA; Bennett also undoubtedly knows that there were at least four or five additional occasions (according to my source) of Chantry using excessive force as he beat students with a paddle.
Why would CLA Superintendent Philip Bennett not be willing to inform all parents who had children enrolled at CLA while Chantry was teaching (from 2002-2006) to ask their children if they had ever been abused by Chantry? This would seem to be the right, decent and Christian response to take when one learned that the Arizona prosecutor had described the incidents Chantry committed while a pastor in Prescott, AZ as "unspeakable acts of sadistic physical abuse."
Why would people from CLA encourage individuals to write positive character reference letters to Judge Astrowsky on behalf of Thomas Chantry in hopes of obtaining a more lenient sentence? According to Illinois State Representative, Tom Morrison "people he knows from Christian Liberty encouraged him to send a letter on Chantry's behalf."
What would cause Philip Bennett to revoke CLA's longstanding and what they continue to believe to be Biblical, practice of administering corporal punishment to wayward students?
These are all questions that deserve answers, questions that parents who are plunking down $10,000  per year tuition for their child to attend CLA should be asking. In my opinion Law Enforcement also needs to investigate this matter.
Below is a Police report of an incident of severe paddling administered to a five-year-old child by Thomas Chantry. I wonder, as the parents of the child did, why Chantry, a 5th-grade teacher, was beating a child in Kindergarten.
I witnessed Thomas Chantry swear an oath on the Bible, to tell the truth, the whole truth and nothing but the truth, so help him God and then get up on the witness stand and tell lie after lie. When interviewed by the Police in this incident Chantry was under no such oath, so I would say it's highly probable he did not speak truthfully to the Police.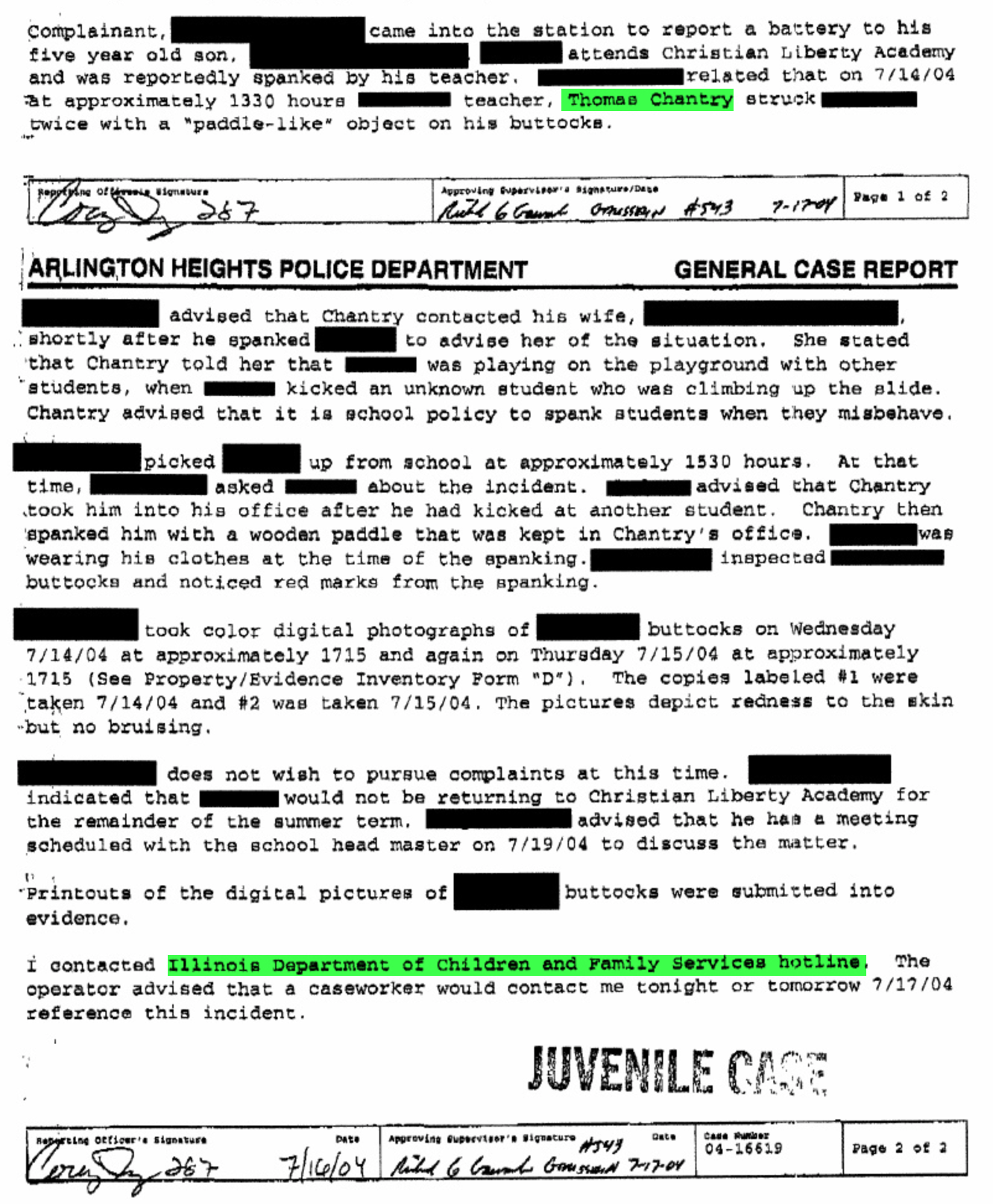 ---
Remember this, folks, everything you write for public perusal could come back to haunt you. Recently, Todd posted this tweet.
It appears the news media found his support of Chantry interesting. Here is one post: State Rep. MORRISON vouches for child abuser. Morrison defended what he said, at least for a few hours…
Reached by phone, Morrison said, "I stand by what I wrote. I'm not going to talk about anything beyond the brief time we taught together." He dismissed the media attention to his letter, saying voters have bigger concerns. "They want to talk about property taxes and the fact that they're making plans to leave the state. Those are the real issues."
That brave stand didn't last long. Todd tweeted:
Shortly after this, (the same day, actually) Chicago's Daily Herald posted Morrison retracts letter supporting pastor convicted of physically abusing kids.
State Rep. Tom Morrison on Thursday retracted his earlier letter of support for a Christian teacher and pastor convicted of aggravated assault for severely spanking children in Arizona.

…In it, Morrison called Chantry "professional, courteous, and caring to students, parents and fellow staff."

"In the time we worked together, in a variety of settings, he had his students' best interests at heart," Morrison wrote.

Morrison sought to walk back those statements Thursday, saying the letter was penned when he didn't know the full extent of charges against Chantry.

…"What I learned this morning is not reflective of the person that I once knew," Morrison wrote Thursday in an email to the Daily Herald. "These are the most serious allegations and at the time I was unaware of them — and I wholeheartedly condemn them."

In a follow-up statement, Morrison said he "made a grave error" in not doing further research into the full scope of the situation.
Here is what was posted by those supporting Morrison's opponent, Maggie Trevor.
My thanks go out to Todd Wilhelm who has gone above and beyond in the Tom Chantry saga. he continues to demonstrate why he is TWW's Official Hero.